The biological properties of olive oil are related not only to its fatty acids composition, but also to the presence of some minor polar components endowed with strong antioxidant activity (1-3). These phenolics are the most important class of olive antioxidants, and their distribution in olive fruits, olive oil and olive leaves has been thoroughly investigated. The major phenolics of the olive tree are phenolic alcohols like hydroxytyrosol and tyrosol, secoiridoids like oleuropein, and hydrocinnamic acid derivatives like verbascoside and caffeic acid: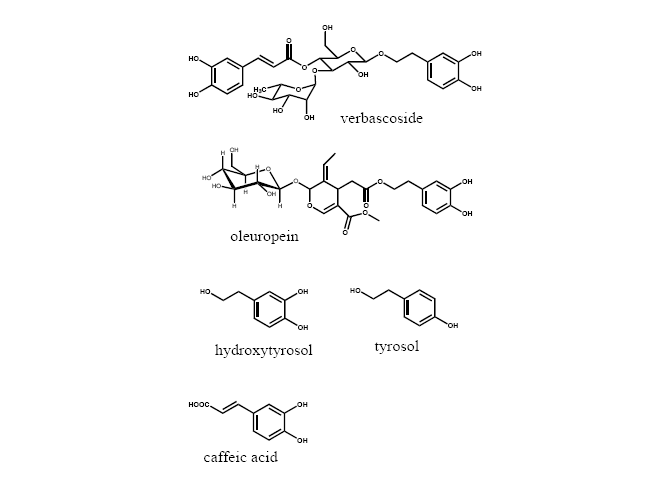 As an example, the average contents of various polyphenols in fresh fruits from different Italian cultivars is:
Hydroxytyrosol 0.06-0.41% (w/w by HPLC)
Tyrosol 0.01-0.12% (w/w by HPLC)
Oleuropein traces-0.24% (w/w by HPLC)
Verbascoside 0.02-0.32% (w/w by HPLC)
The composition of the olive fruit is very complex and markedly dependent on factors like cultivar, cultivation practices, method of harvesting, geographical origin, and degree of maturation. Opextan® has been obtained from a selected variety of fresh olive fruits that are harvested by hand in Italy in order to avoid any degradation of these precious compounds.
Expand Bibliography
Waterman, E., Lockwood, B. 2007. Active components and clinical applications of olive oil. Altern. Med. Rev. 12, 331-342
 

Visioli, F., Galli, C. 2002. Biological properties of olive oil phytochemicals. Crit. Rev. Food Sci. Nutr. 42, 209-221. 

Cristoni A, Giori A, Maramaldi G, Artaria C, Ikemoto T. Olive fruit extracts for skin health. In: Nutritional Cosmetics: Beauty from Within, Tabor A, Blair RM (eds). William Andrew Applied Science Publishers/Elsevier, 2009, pp 233-244.